ZOiD - ZONGS (album) release date: 8_4_22
Label: Zoitrax
Cat #: ZTXCD001
Format: CD+Digital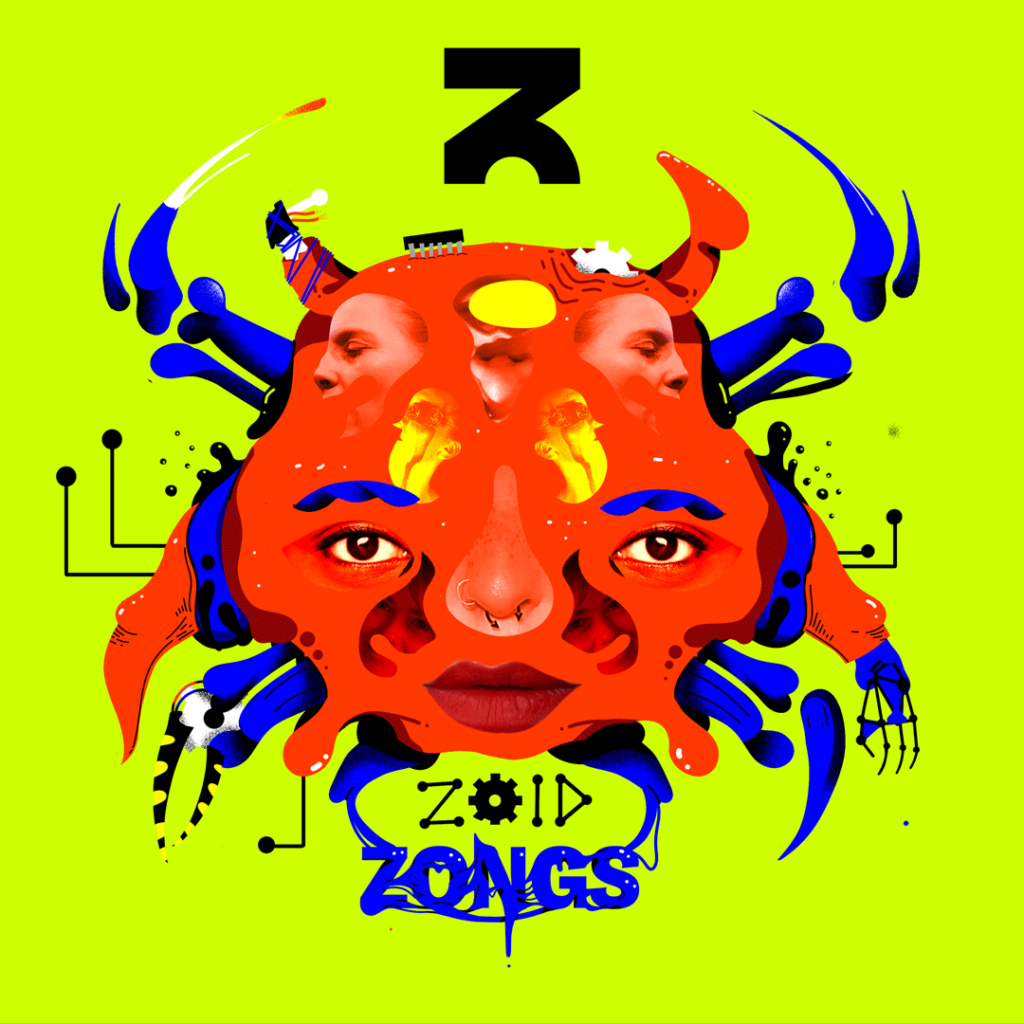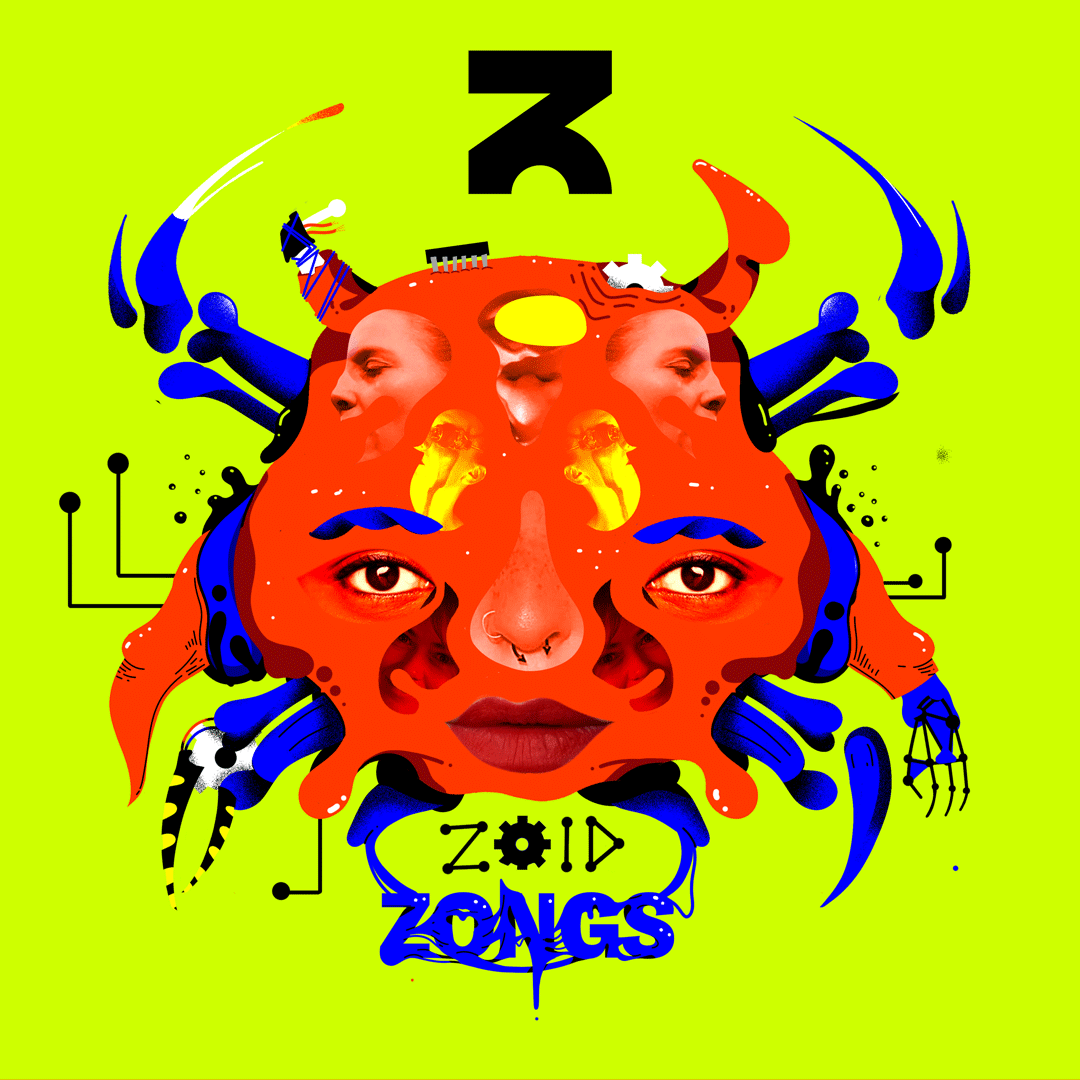 Release Schedule:
Singles:
Looking In The Rain (feat. Dorota Konchevska) to be released 11/3/22
Wish You (feat. Esosa) released 24/9/21
Static (feat. Suzanne Savage) released 29/10/21
Album:
ZONGS to be released 8/4/22
Tracklist:
1. If There Were Words (feat. Lauren) (Daniel Jacobson)
2. Fine Life (feat. Aoife Doyle) (Daniel Jacobson)
3. Looking in the Rain (feat. Dorota) (Daniel Jacobson+Dorota Konchevska)
4. Wish You (feat. Esosa)  (D.Jacobson)(Daniel Jacobson)
5. Sometimes (feat. Jenna Harris) (D.Jacobson Jenna Harris)
6. Static (feat. Suzanne Savage) (D.Jacobson+Suzanne Savage)
7. What Has It Come (feat. Seo) (D.Jacobson+Eseomo Mayaki)
8. What Did They Know (feat. Miriam Ingram) (Daniel Jacobson+Miriam Ingram)
ZOiD Bio:
ZOiD is Dublin musician Daniel Jacobson. He started playing guitar and writing music at 12. He showed early promise when at the age of 15 his composition "Tolerance" (made with 4 overdubbed guitars) won the music prize of the Dublin School UN Year of Tolerance competition (the prize being a trip to the UN General Assembly in New York City).
As a teenager he was introduced to techno music by two DJs who lived in his neighbourhood, igniting a lifelong passion for electronic club music. Simultaneously he discovered and fell in love with jazz, going on to study with some of Ireland's greatest jazz musicians, Hugh Buckley, Mike Nielsen, Tommy Halferty, and Ronan Guilfoyle.
At 17, his first techno tracks came to the attention of D1 Records boss Eamonn Doyle, who offered him a chance to record some tracks at D1's studio. He performed at The Funnel 4 times before it closed in 1999, twice for D1 and twice for Decal's Phunk City.
In 1999 he founded a label called Diatribe, and released the first record on the label, the Subinersoll EP. Diatribe went on to become Ireland's biggest contemporary music label, although he left the label in 2008.
From thousands of applicants, he was accepted as a participant at the 2006 Red Bull Music Academy in Melbourne. Co-participants that year included Flying Lotus and Oddisee. Lecturers included Mark Pritchard, Peter Hook, Kode9 (founder of Hyperdub), Derrick May and Mike Paradinas (Mu-Ziq) among many others. A highlight for ZOiD was playing live as a support slot for Mu-Ziq at Melbourne's Corner Hotel.
Since then he has spent time building and running a music school, Ultimate School of Music, putting on workshops and masterclasses in guitar and electronic music, making electronic music and writing songs. He's released 2 albums and several EPs, on labels including Meljoann's Boy Scout Audio, D1, French label Hormonal Vibrationz and his own Zoitrax label.
In 2019 he began working with Funk d'Void  as a mentor, and as a result of this his tracks moved to a new level. The following hear he joined Red Rack'em's Patreon group How I Program.
Recently he signed 2 tracks to Dan Curtin's Metamorphic Records. His first release for Metamorphic, the "Dexaphonic EP", will be out in late 2022.
His own label Zoitrax will release his 3rd album "ZONGS", featuring collaborations with 8 different vocalists, on 8th April 2022.
Selection of releases:
Zoid Versus Jazz Musicians of Ireland (album)(2007) Diatribe/D1
Lyphyz Drumdrops EP (2013) Boy Scout Audio
Troonax EP (2013) Alkalinear Recordings
Nebulous Concrete (album)(2018) Zoitrax
to-be-released: Dexaphonic EP (2022) Metamorphic Records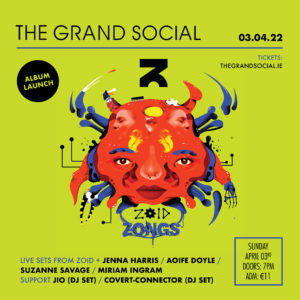 Info on ZONGS:
ZONGS marks one of the most ambitious and collaborative albums likely to emerge from Ireland in 2022, with eight imaginative tracks featuring the vocal talents of eight different female vocalists, all bringing something unique to the musical musings of ZOiD. 
ZOiD is the brainchild of electronic and jazz musician, Daniel Jacobson, a stalwart of the Dublin electronic scene, whose intake of everything from techno to Bacharach over the years has ensured a vein of varied adventure runs through his music and has been unafraid to push the boundaries.
From his earliest influences from labels such as Warp, Rephlex, Underground Resistance and Dublin's D1 producers Donnacha Costello and Rob Rowland, ZOiD's fertile musical imagination was inspired by techno before evolving to incorporate and write tracks that amalgamated several genres into a populated musical petri dish of new ideas and innovation. 
The culmination of this to date is his new release ZONGS – an eight track beat-filled odyssey that seamlessly flows with vocals from Lauren, Aoife Doyle, Dorota Konchevska, Esosa, Jenna Harris, Suzanne Savage, Seo and Miriam Ingram. From the soul and funk of 'Static' to the 909-driven 'Wish You', the percussive rhythms of 'Sometimes' to the Sade-esque lounge cool of 'Looking in the Rain', ZONGS has a little something of everything and is not easily pigeon-holed. 
Collaboration has featured strongly during ZOiD's musical journey, both with fellow artists and various record labels, including Diatribe/D1, Meljoann's Boy Scout Audio, Front End Synthetics and Dan Curtin's Metamorphic Records.
According to Daniel, "Straight after releasing Nebulous Concrete in 2018, I got the idea for the concept and name for the ZONGS album; what if I did a series of songs, each with a different singer, where the beats and the production are techno-influenced, but the structure and melodies are song-focused? The singers were a mix of people I knew from way back and the 8 songs that made it onto the album were whittled down from around 20 ideas that I worked on.
"With the exception of 'Static' with Suzanne Savage, all the vocals were recorded by the singers themselves at home, as were all the other musicians' parts from Jake Curran, Chris Engel and Kate Ellis. It was a real pleasure working on this album and collaborating with all these great musicians and engineers, and as always I learned a lot from all of them."
There is a sense of mischievous playfulness that underpins ZOiD's music, belying some intricate arrangements and clever songwriting that form the foundations of the new material. ZONGS will be launched with a live show at The Grand Social, Dublin, on Sunday April 3 with several of the featured vocalists (Miriam Ingram, Aoife Doyle, Jenna Harris and Suzanne Savage) joining ZOiD live on stage.
Tickets: http://zongs-launch.eventbrite.ie

Feedback from DJs:
TomC – "Dope EP!"
RJNAL – "Fun productions"
Maria del Mar – "Magistral"
Low Deeperz – "Awesome tunes, thanks!"
DJ_KIK – "Wish You for me"
Higani Shizuka – "Very nice oldschool vibes"
Rigged Jasn – "Love the variety of tunes and the great production on all of them!"
Trevor Fung – "Lovely release loving "What Has It Come" & "What Did They Know"..Thanks"
Imanol – "Interesting and eclectic album, thanks!"
DJ Luchie "Flava flava… nyce selection!!!"
DJ BrendanP "Cracking release!!!! Love it massive support"
Neil Craven "great mix of various styles nice work"
DJ Cee "Wish You is the track for me!"
Jim Star "Excellent! Full support!"