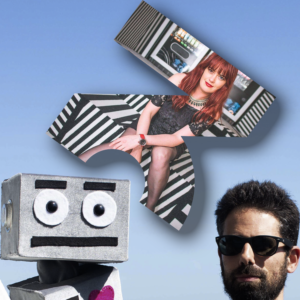 ZOiD
'Static' (feat Suzanne Savage)
Single release October 29, 2021
Zoitrax
Stream/ download: https://s.disco.ac/crgzbdnftequ
Following the success of recent release 'Wish You' ZOiD, AKA Daniel Jacobson, returns with brand new single 'Static'. Dipping into the waters of soul and funk 'Static' features Belfast soprano and jazz vocalist Suzanne Savage and is out October 29, 2021. 
'Static' is the second single from ZOiD's upcoming album ZONGS due out in 2022. Collaboration forms the basis for ZOiD's projects with appearances from Nigerian-Irish vocalist Esosa Ighodaro O'Brien and saxophonist Chris Engel also featuring on ZONGS.
There is a sense of mischievous playfulness that underpins ZOiD's music, belying some intricate arrangements and clever songwriting that form the foundations of the new material. From early techno leanings, ZOiD's musical compass has also been steered by artists as varied as Burt Bacharach and Aphex Twin, ensuring a rich artistic palette from which 2021's releases have drawn upon. 
From his earliest influences from labels such as Warp, Rephlex, Underground Resistance and Dublin's D1 producers Donnacha Costello and Rob Rowland, ZOiD's fertile musical imagination was inspired by techno before evolving to write tracks that amalgamated several genres into a populated musical petri dish of new ideas and innovation. 
ZOiD collaborated with Aisling Ennis'  on a one-off live performance from her #BOUNCE project (https://www.aislingennis.com) of a duo piece called 'Blaster' which took place last month in Ballybla Farm, Wicklow. There will be a live broadcast of the performance on Friday, October 15 at 8pm.
Facebook: https://fb.me/e/3z5GYEmQ5 Youtube: https://www.youtube.com/watch?v=BTjFygnq4qM
'Static' is out October 29, 2021
Twitter: @zoidan
Instagram: @zoid999
Facebook: @zoidioz 
Website: www.zoid.ie


For further information / images / interviews please contact [email protected] or [email protected]
Mags Blackburn
BLUE MONKEY PR